Gmail Web Config
Find this page at:
go.ncsu.edu/readext?301528
Configuration of the Gmail web interface
One of the real benefits of our new email system is the ability to get to all of your mail from any computer. Google Apps @ NC State has a lot more space for you to use so you should be able to have all of your mail on the server. We all know that Google has a search engine. It will quickly go through your mail to find what you are looking for.
NOTE: Before you change any settings in the web interface, exit any IMAP clients that you may be using. This includes both Thunderbird and Outlook.
Signing in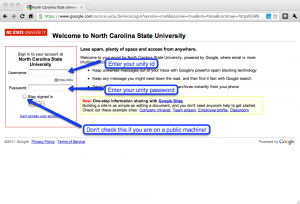 Basic Setup
These options will help you with both the web interface and with your other email clients, including Thunderbird.
Deletion Controls
Settings in the upper right corner
Select the Forwarding and POP/IMAP tab
Auto-Expunge off
Move the message to the Trash
Save Changes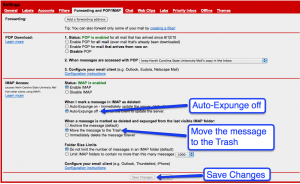 Label Controls
Settings
Labels tab
Uncheck "Show in IMAP" next to All Mail

Send As address
Settings
Accounts tab
Add your firstname_lastname@ncsu.edu address
Add another email address you own
Send Verification

The confirmation will be sent to your account pretty much immediately.

Accept confirmation sent from "North Carolina State University Team"
Go back to Settings, Accounts and make this your default address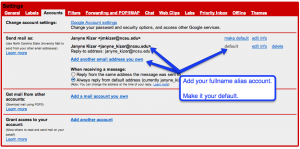 Setting Your Signature
Settings
You will be on the General tab automatically
Scroll down to the Signature block
Toggle to the account that you want to use
You should see unityid@ncsu.edu and firstname_lastname@ncsu.edu.
Add your signature and save it by clicking Save Changes at the very bottom of the screen

Plain Text and Rich Formatting
Sometimes you'll want to use Plain Text instead of Rich Formatting when you compose an email. You can toggle between the two by using the link under the subject line.