We Use CrashPlan for Backups
Extension IT is now using Crashplan ProE for backing up the County Mac computers. CrashPlan ( http://www.code42.com/crashplan/ ) is a commercial service that allows us to store copies of our data in the cloud. 
How do I know if CrashPlan is running on my Mac?
Once CrashPlan backup has been started on your computer you will find a new "house" icon

located at the top of your screen on your menubar. Clicking the house icon will show you the status of your backup.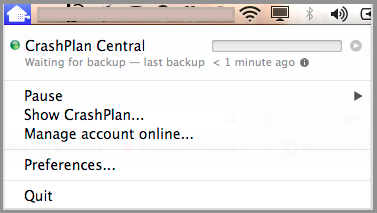 Clicking 'Show CrashPlan…' from this menu will launch the CrashPlan interface, which will allow you to restore some or all lost files. You will also have the ability to change some of your backup settings, though this is not recommended.