Upgrading to El Capitan
El Capitan Upgrade Instructions
Time Required: Up to 2 hours
Open the Self Service application.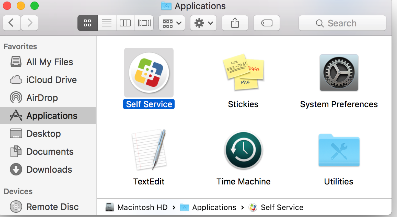 2. In Self Service, you should see an item called "El Capitan Upgrade". Click the "Install" button to begin the upgrade process. The upgrade process can take up to 2 hours to complete.
          Note: The upgrade is only available for computers that are on the 2016-2018 Mac lease, and have not already upgraded to El Capitan.