Introduction to Bb Collaborate
What is Blackboard Collaborate?
Blackboard Collaborate is a web conferencing tool available to us at NCSU via the DELTA group. It can be used for distance learning, multi-site meetings, presentations and collaboration. PowerPoint slides can be presented and both voice and video are available. In short, it is a interactive environment for communication, presentation, interaction and instruction that allows web conferencing over the internet from your desktop. Using tools such as Bb Collaborate can help you reduce both travel cost and travel time.
Possible uses:
online meetings and seminars
training
remote guest speakers
online office hours
Do I need a Collaborate account?
Anyone can participate in an Collaborate session. To schedule meetings, however, you will need an NCSU Unity account. You do not need any special account or access to use this tool.
How do I get help with Collaborate?
If you are having problems with the Collaborate server itself — for example you cannot access https://collaborate.wolfware.ncsu.edu/ — contact DELTA's Learntech by calling (919) 513-7094 during business hours or e-mail them at learntech@ncsu.edu.
What equipment is recommended?
A computer with Java installed. To see if you have the required software, go to http://go.ncsu.edu/configuration
A way to hear sound and a microphone are both very helpful. In general, we recommend headsets made by Logitech, Plantronics, Sennheiser and Creative Labs.
Recommendations:
USB (required for Macintosh computers)
adjustable headband
comfortable to wear
mic (noise canceling preferred) that can rotate down. Some sites describe this as "Flexible boom mic which rotates to fit either side"
inline mute would be a nice option (depending on how much the mic and headset will be used)
A microphone that can rotate out of the way will allow the headset can be comfortably used as headphones as well.
To use a USB headset on your Mac, plug it into the machine that you will be using and to to Preferences -> Sound. For both Input and Output, select the headset. You may want to change this after your Collaborate session.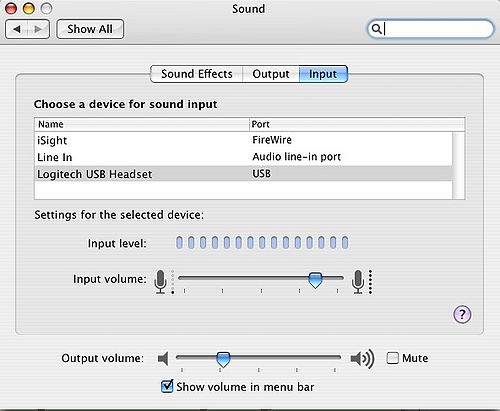 How do you get started using Collaborate?
In addition, DELTA regularly offers moderator workshops.
Collaborate File Associations
When using Collaborate on your Mac, the program downloads a *.jnlp file and opens it with Java Web Start if the file association is set up.
Occasionally, a software update will occur that breaks this association. When this happens, the Mac tries to open the *.jnlp file with TextEdit. To correct this file association
Go to your Downloads directory
Right-click on any *.jnlp file
Select Get Info
Locate the Open With section and select Other from the drop-down box.
Go to Macintosh Hard Drive and select System, Library, CoreServices, Java Web Start
Click Change All in the Get Info window
Other Resources