Old Content to Review Now Accessible From WordPress Dashboard
Find this article at:
go.ncsu.edu/readext?735290
Posted On

September 30, 2020
Our Old Content Review process just got easier! You can now view your old site content (both Pages and Posts) straight from your WordPress Dashboard.
If you look in the left-hand menu, you should now see a new link that says Old Content. Click that and you'll see a list of site content that is older than 5 years that might need a refresh or could be deleted permanently.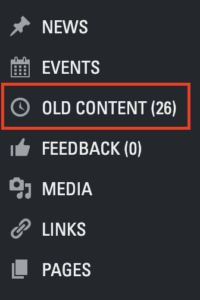 If you want to delete one of these Pages or Posts completely, you should click Edit and then select the red Move to Trash link in the right-hand column (next to the Update button).
If you want to update the page/post, you also have the option of moving it to Draft until you can make changes to the content. This will remove the page/post from your site until it is republished.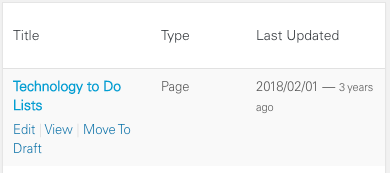 We hope adding this functionality within WordPress will make it easier for you to not only review your older content throughout the year but also give you more time to think about your overall site content by making it more easily accessible to view.
PLEASE NOTE FOR COUNTY SITES: Anything left in the Old Content queue on January 31 (that hasn't been updated in the past 2 years) will be automatically removed so we strongly advise you to take action on these posts yourself.
Some tips on reviewing old content:
If your old content is still getting a lot of page views (typically more than 500 in the past 3 months), think about creating a brand new Post with similar, but more timely or refreshed information.
If a Page or Post was written by someone that is no longer with Extension, you may want to remove it and let the current subject matter expert write their own updated version.
If your old Page or Post has an old photo, think about updating it or adding one to give the content more visual flair. Our data shows that Pages and Posts with at least one high-quality picture perform better!
If there is no number in the Page Views column, click View Report to see the full stats. If it is timely content, it may be something that can be removed to be rewritten for the next specific season.

If you have any questions about this new feature or the Old Content Review process, please contact the CES Help Desk by emailing ces_help@ncsu.edu or calling 919-513-7000.