Our Revamped News System Gives You More Control
Find this article at:
go.ncsu.edu/readext?560082
Today, we're launching our revamped news system! For years, as our WordPress eco-system grew with new portals, more authors, and extra features, so did the way we aggregated and displayed news posts on your portals. In fact, we did so much that things started to get pretty complicated.
How Things Used To Be
Prior to today, these were the rules we used to compile the News and Updates section on your County portals:
We displayed the 5 latest posts from any integrated blogs you had set up; if any (or all of them) were older than 5 weeks, we hid them.
We displayed all of the Promoted (or Featured) posts for your site that hadn't yet reached their expiry date (no limit).
County-specific posts that weren't marked as Promoted (or Featured).
We displayed the latest posts from other N.C. Cooperative/NC State Extension sites you subscribe to.
We displayed all of the latest posts from other sites that were explicitly marked to be cross-posted to your site.
We presented these all chronologically and chopped this list at 20 items, with exception to the Promoted/Featured News items, which always appear at the top of the list. This became the News and Updates section on your homepage.
Sound complicated? It was. We were only fetching 5 posts in some instances to give preference to the County-specific (or native) news from your site. We didn't want it to be overwhelmed from subscribed or cross-posted news items.
We even added icons to the bottom of each post snippet to help you determine the source of the article (these won't be going away).

There Were Some Issues
All of the logic we used to create the homepage created some problems when users clicked on the 'More News' button to see what was on 'Page 2.' Essentially, to display Page 2, we needed to determine which news didn't make the homepage (or where we drew the line). To do this, we had to re-compute the same six steps for Page 1 first!
Over the years, we also got comments from many of you:
All of the other news on our homepage is drowning out our news.
I noticed somebody cross-posted an article to my site, but we don't really feel like it's relevant, can we remove it?
There's a really good article on another Extension site (that we don't manage), is there any way to cross-post it to ours?
We subscribe to receive news from the XYZ Portal, but some of their news just isn't applicable to our county, is there any way to choose which news we want?
We've listened, and are happy to announce the rollout of a new feature that gives you even more control over what you see in your News and Updates section!
| | |
| --- | --- |
| Old | New |
You'll notice we've renamed 'All News' to 'From Your Site' (there's no change to this page other than the name) and added a new menu item titled 'From Other Sites.' You can use this new tab to selectively turn off any cross-posted or subscribed articles that are appearing on your site (one by one, as you see fit).
No More Copy & Pasting Articles
If you find an article on any other N.C. Cooperative/NC State Extension site (county.ces.ncsu.edu or someportal.ces.ncsu.edu) that you would like to also appear on your site, you can simply copy the link to that article, which will look something like "https://ipm.ces.ncsu.edu/2018/10/are-you-hand-weeding-frequently-enough/," and paste it into the 'Pull An Article From Another Extension Site?' field at the top of the new 'From Other Sites' section. Not only will the article then appear on your site, if that article is ever updated (or removed), you will instantly see those changes reflected!
We're calling this new feature 'Cross-Pulling,' and articles that you've hand-selected to add to your site will get the new icon compare_arrows.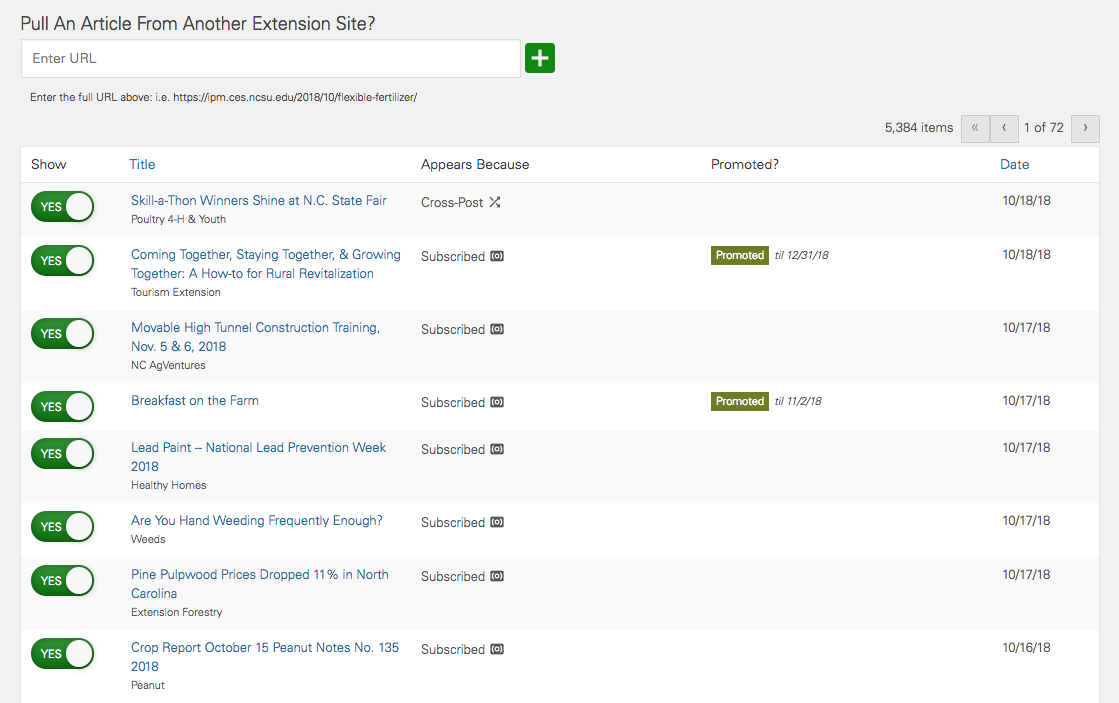 If you have any questions about 'Cross-Pulling,' or anything else related to your portal newsfeed, let me know at jmware2@ncsu.edu.