Lynda.com Accounts Available Now for All Extension Personnel
Posted On

June 25, 2018
The NC State Libraries have purchased a license that now allows us to offer lynda.com accounts to all Extension personnel at no cost!
Previously, we had a limited amount for EIT to share and you would need to call the EIT help desk to use one. Now all you have to do is follow this link and sign up.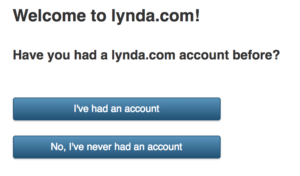 Authentication is done through Shibboleth (and DUO) using your Unity ID. Once you have authenticated, you'll be asked if you've had a previous account or if you would like to set up a new one.
If you have previously used the site, choose I've had an account when prompted so that you can retain your history.
If you'd like to see a list of everything that the site offers, take a look through their Library.
What is lynda.com?
Lynda.com is a leading online learning platform that helps anyone learn the business, software, technology, and creative skills to achieve personal and professional goals.
Members have access to the Lynda.com video library of engaging, top-quality courses taught by recognized industry experts, on a variety of topics.