New 'Find Your Experts Tool'
For years, we've provided a tool inside of XEMP (our Extension Employee Database) that allowed you to select various areas of responsibility (pertinent to Extension) and we would return a list of folks who had self-identified with responsibility in those areas. You could then use this internal list to send out a more targeted email (or maybe you were just looking for a particular individual to contact). Here's a glimpse of what the old tool looked like.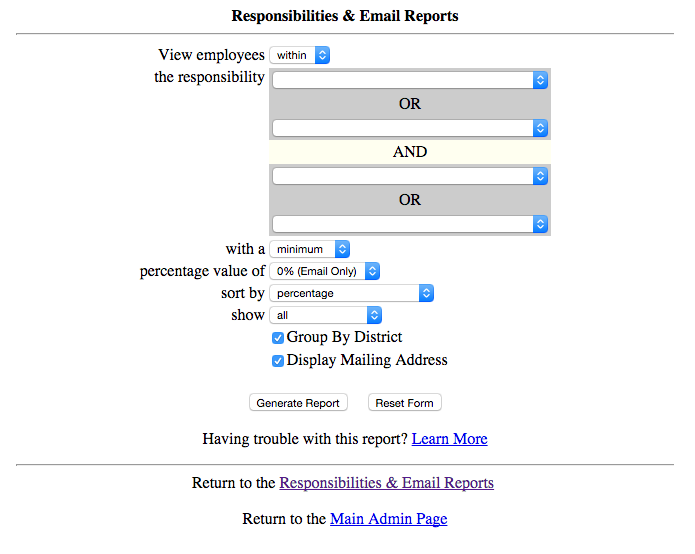 Because the tool worked so well, and had proven to be an invaluable resource for a lot of folks in our organization over the years,
we decided it was time for a makeover.
We interviewed several power-users, Extension Administrators, and dug deep into our analytics data.
The result of our inquiries told us there were some major shortfalls within the app:
Many folks didn't use the minimum, maximum or percentage fields
Many folks didn't sort
Hardly anyone really understood how the 'OR' -> 'AND' -> 'OR' pull downs actually worked in conjunction with one another.
With these problems in mind, and some ideas for the future, we set out to create the new version, which we just released last week: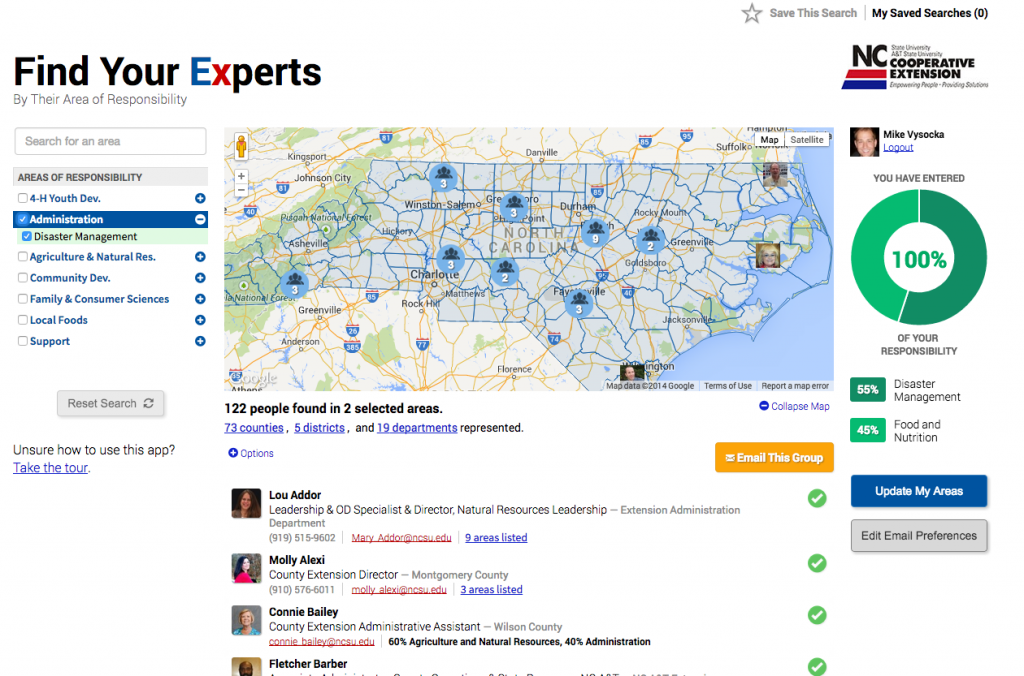 We made a ton of improvements
No more unwieldy pulldowns used to select from the long list of 89 areas of Extension responsibility. Sub-areas are now collapsed neatly under their parent area (and each can be easily expanded down).
There's also a new 'Search' box which allows you to simply start typing and quickly select areas from the list.
The map now shows county boundaries, and groups people in geographic proximity as you zoom in / out. Note: right now, searches that return large result sets don't always map everyone.
There are new filters to selectively hide results from a particular county, district, or department. All of which are now reported in the result summary directly under the map.
You can use the green checkboxes next to an individual person to exclude them from a particular result set.
YOU CAN NOW SAVE individual searches you conduct, and since each saved search has it's own unique url, you can share this link with Extension colleagues.
Want a more thorough tour? Watch the video:
Ready to Get Started?
You can access the new tool here: Find Your Experts (Login Required)