New Extension App Helps Public Find Our Resources Faster
Find this article at:
go.ncsu.edu/readext?299282
This Fall and Spring we've been busy re-thinking the way we store and deliver our Extension publications. We have a long list of numbered Extension publications, factsheets and other resources, including document originals that contain some exceptional content for the people we serve. While we've long maintained our own Extension Resource Database (better known as XRDB to many of you) here in Extension IT, we had a difficult time getting everything into it, mainly because our best resources were scattered about the web on various department sites, file sharing services, and other in-house apps. Now, we finally have the resources and buy-in to get everything consolidated and organized under one big umbrella.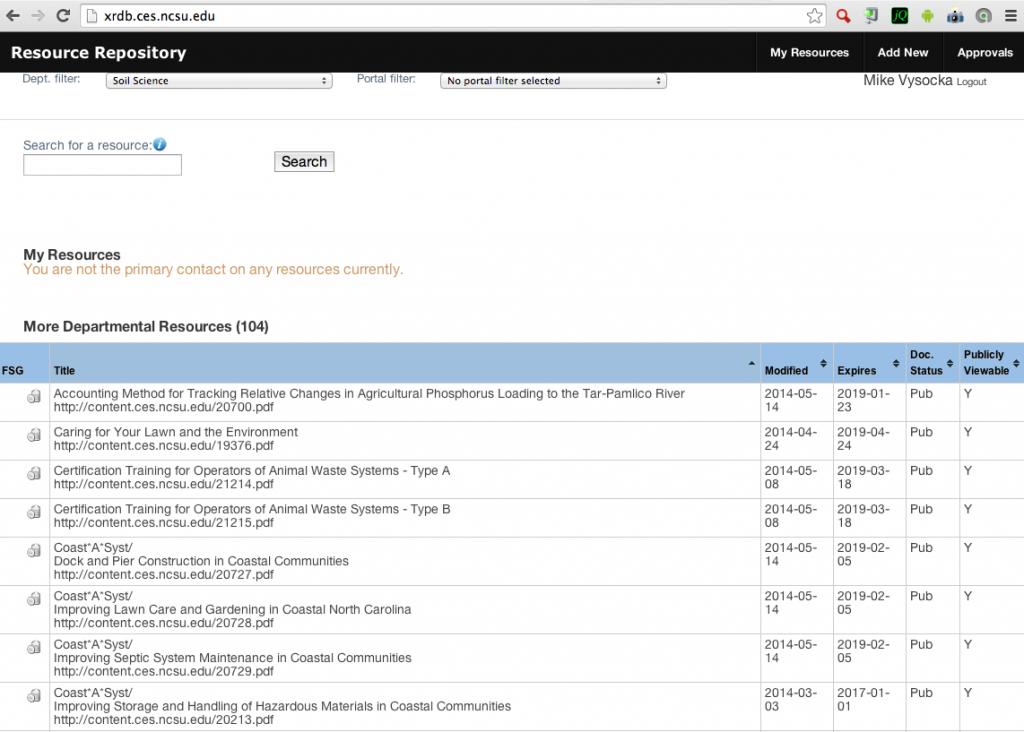 Login at: http://content.ces.ncsu.edu
The new XRDB will handle everything.
We've finally finished the re-make of XRDB and, while we'll still be actively making some changes under the hood and polishing up the interfaces, it's ready for use today. We already have a lot of publications migrated (and we're working hard to get more imported). Once you've entered your publication on the new backend (and marked it as published), it will automatically start showing up in a number of places on the front-end, where our users can easily find and link to them.
ALL NEW Extension publications must be entered in XRDB
We have a dedicated interface for users to browse/search the repository: https://content.ces.ncsu.edu
Resources will show up in search results on Google and in searches conducted from any of our 180 portals. (Note: it can take Google and other search engines several days to become aware of new documents that get listed, so be patient.)
Who can use it? All Extension Specialists and other campus based extension personnel
Resources/Publications don't have to be a PDF anymore
Historically, a lot of our older pubs (like this one), were created and published as a PDF – in part because this was the most uniform and reliable delivery platform at the time. However, as the web has matured, a lot as changed. PDFs have declined in popularity (confirmed by this Washington Post article), and now provide an inferior user experience because they tend to have larger file sizes than their HTML counterparts and they're not very mobile friendly. They're also rarely accessible to users with visual impairments. We're proud to announce that XRDB supports non-PDF resources like webpages and YouTube videos.
We even have a slick new document editor for creating search engine & mobile friendly publications
Thanks to developer Rob Ladd, after you save a new XRDB resource, you'll see a button for "Create/Edit Factsheet (FSG)" which will allow you to quickly and easily build an Extension Factsheet or Publication from scratch. When you're done, your new factsheet will be published using clean, accessible, and semantic html. Your factsheet will also look great on mobile.
Partial screenshot of the Factsheet Generator interface.