Redesigned Spotlights Help Bring More Content Forward
Today we're happy to announce the latest release of our latest Featured Content or 'Spotlights' area.
What's a Spotlight?
The 'Spotlight' or 'Featured Content' region of our homepage is designed specifically to draw attention to important or time sensitive Extension news item or announcement (like an early closing due to Adverse Weather). We acheive this by devoting a larger amount of space to this content, and displaying it higher up on the page with a slightly bolder design than our everyday news and events.
Spotlights (or Featured Content) are created virtually the same way you create your Pages, and News in WordPress, but instead created under the special 'Spotlights' area.
Spotlights can be seasonal, cyclic, or annual
Content published as a Spotlight can be set to automatically display during certain months of the year (i.e. every October and November) or all the time (using the 'NOW') setting. Once you choose this setting, your spotlight will automatically appear and disappear from  your page during designated months of the year. This can be particularly handy if you've created a seasonal spotlight like a 'Frost Advisory' and set it to display every September, October and November. Note, it's wise not to include any specific dates (or years) in these Spotlights, unless you trust yourself to go in and edit them again before they re-appear the next month/year.
Note: If you set a spotlight to display as 'Now', it will remain on your homepage until you login and uncheck 'Now'.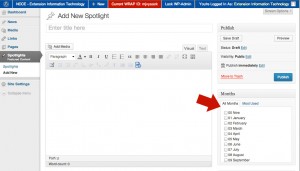 Design Iterations
Our very first Spotlight design launched in July of 2012 and showcased our Featured YouTubes as well as our Featured Content. One of the key usability issues we had with this design variation was the small bullets used to switch between spotlights. Not only were the small bullets hard to click, for lack of a large enough target area, some folks didn't even know these little bullets were clickable.
June 2012
April 2013
Fas tforward to 2013, when we tweaked the Spotlight design yet again, this time solving the problem of the 'tiny bullets', moving toward a larger 1, 2, 3, 4, 5 circle based navigation. However – while it was more clear that the user was in control of which spotlights they could view and how many there were, our site owners were still frustrated and rigthfully so. Four of the five featured stories were essentially still buried behind these ambiguous circles until the page automatically cycled through to them (or the user clicked on one). This issue was particularly concerning when sites had 2 or more 'urgent' or pressing stories & notices that needed to be seen.
In today's release (which is unlikely to be our last, because we're always hoping to get better) we've finally delivered a better birds-eye view of all of your featured content at once. We hope you like the change!
March 2014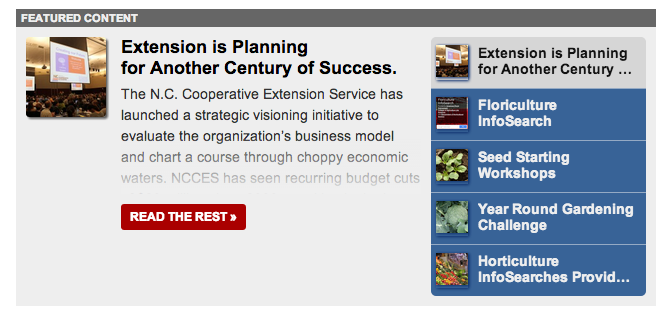 A couple of small side notes to remember:
We'll never display more than 5 spotlights at once, so if you have more than 5 that are set to display at the same time, we'll randomly select 5 for you.
If you have less than 5 spotlights set to display at any given time and you are a county or district website, we will check the State site for other pertinent spotlights to display.
Was the information on this page helpful?
This page can also be accessed from:
go.ncsu.edu/readext?279975